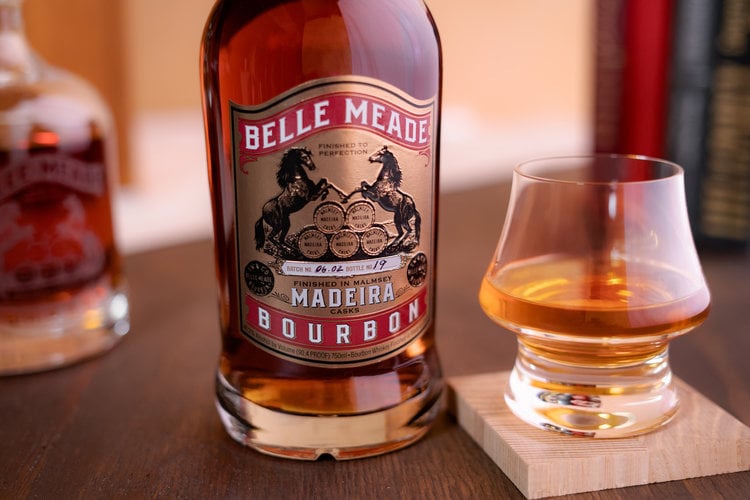 Belle Meade Bourbon Madeira Cask Finish™ is the third release in our award-winning Special Cask Finish Series. Like its predecessors, careful crafting and patience results in a product that showcases both a taste of America's Native Spirit and the Old World wine-making methods used in Madeira production.  
To finish this offering we select casks which were used in the production of Malmsey Madeira. Malmsey is the richest and sweetest tasting of the Madeira styles and is renowned for the depth and complexity of its honeyed flavors. This is a result of the wine being "cooked," fortified, and aged in the time honored traditions of wine making on the island of Madeira. 
We fill these casks with a proprietary blend of well-aged Bourbons. The robust flavors from the casks pair well with the spicy high rye content of the Bourbon and create a striking profile unlike any other whiskey in the world. 
Belle Meade Bourbon Madeira Cask Finish has been cut to 90.4 proof and, as with all of our products, is never chill-filtered. The result is a Bourbon of particular distinction and uncommon character. Have it neat, with a splash, over a sphere of ice, or create a distinguished twist on your favorite whiskey-based classic cocktail. However you drink it, you'll know you are enjoying a rare spirit made for the discerning whiskey drinker. 
Bourbon finished in Malmsey Madeira casks. 45.2 % alcohol/volume
AWARDS
Winner: Double Gold Medal 2017 San Francisco World Spirits Competition.
"The Double Gold designation is awarded to the very few entries that receive Gold medal ratings by all members of the judging panel. These are among the finest products in the world."
- San Francisco World Spirits Competition
---
PONT OF DIFFERENCE
A proprietary blend of well-aged Bourbons.

The blend is then rested to finish in Malmsey Madeira Casks.

High Rye Content (30%)

Non-chill filtered

90.4 Proof
TASTING NOTES
Nose: Floral, with vanilla and hints of toffee.

Palate: Dark Wildflower honey, vanilla, ripe persimmon, dried black cherry, caramelized sugar and baking spices and a soft, velvety mouth feel.

Finish: Lengthy finish mimicking the palate with a touch of malt and chocolate.
Choosing a selection results in a full page refresh.
We support the fight against underage drinking and drunk driving. To learn more visit www.Responsibility.org. Please enjoy responsibly. © 2022 Nelson's Green Brier Distillery. Our Privacy Notice and Terms & Conditions have changed. By using this website, you agree to the Privacy Notice and Terms and Conditions of use.