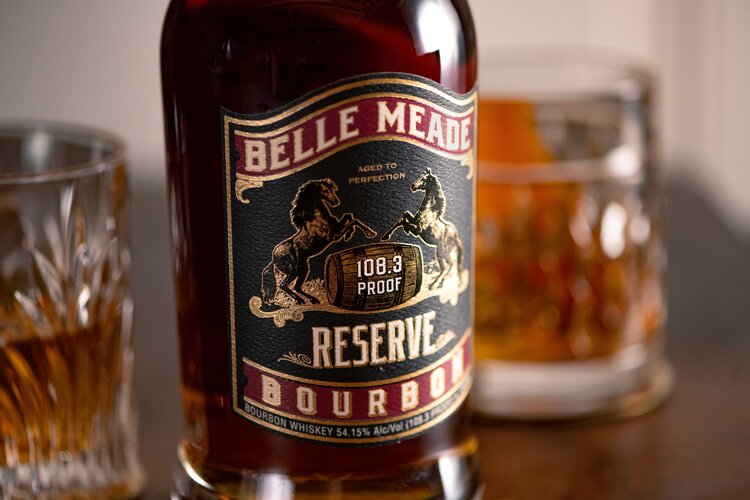 Belle Meade Reserve is the premium expression of the multi-award-winning Belle Meade Bourbon, crafted to meet the growing demand among aficionados for elite, high-proof bourbon. 
Our distillers identify certain superior barrels from the Belle Meade inventory and combine them into separate batches that yield a richer, more robust, higher-proof bourbon that compounds and enhances the character, flavor, and feel of its source. This painstaking process ensures that each small batch of Belle Meade Reserve will be utterly singular, and singularly pleasing. 
Belle Meade Reserve is a bold, high-rye-content bourbon ideal for those who appreciate the finer points of the distiller's art, but equally accessible to anyone who enjoys the taste of whiskey straight from the barrel. Its strong, supple flavor distinguishes every glass—whether you serve it neat, on the rocks, or with a splash of water. And where other bourbons might recede when combined with mixers, Belle Meade Reserve's high bottling proof and mouthwatering flavor ensure that it will enliven any cocktail. 
---
BUY ONLINE FOR DELIVERY
Buy From DRIZLY
---
PONT OF DIFFERENCE
Higher proof: 108.3

Small batch

Not chill filtered, ensuring maximum flavor

High rye content
TASTING NOTES
Though the selection process guarantees a certain degree of batch-by-batch variation, every bottle of Belle Meade Reserve is rich and full-flavored, showing vanilla, caramel, spice, and stone fruits.
---
BELLE MEADE RESERVE FAQ
+ The latest edition of Belle Meade Reserve has a static proof (108.3) and is no longer billed as "Cask Strength." Why the change?
While we love the idea of a cask strength whiskey, we found there was more variation in each batch than we wanted. In an effort to tighten up the consistency of quality from batch to batch, we found that 108.3 proof was really the sweet spot for the flavorful, bold, rich profile we originally envisioned when creating the Reserve.
+ What advantages does this new formulation offer to small batch whiskey aficionados?
Aside from the distinctive flavor, potency, and high rye content the Reserve has always been known for, it really is all about the batch-to-batch consistency. It not only guarantees the standard of quality we've always strived for, but it means that connoisseurs and casual fans alike will know what they're getting every time they reach for Belle Meade Reserve.
+ What would you say to "cask strength purists" who might be wary of trying this new version?
Mainly that just because it's not technically "cask strength" doesn't mean there's any change in quality. We're still using the same blend—two different mash bills and two different yeast strains—and our barrels range in age from 7 – 11 years old (sometimes even older). One might say that all previous batches of Belle Meade Reserve were experiments in trying to find the sweet spot we now occupy.
Choosing a selection results in a full page refresh.
We support the fight against underage drinking and drunk driving. To learn more visit www.Responsibility.org. Please enjoy responsibly. © 2022 Nelson's Green Brier Distillery. Our Privacy Notice and Terms & Conditions have changed. By using this website, you agree to the Privacy Notice and Terms and Conditions of use.