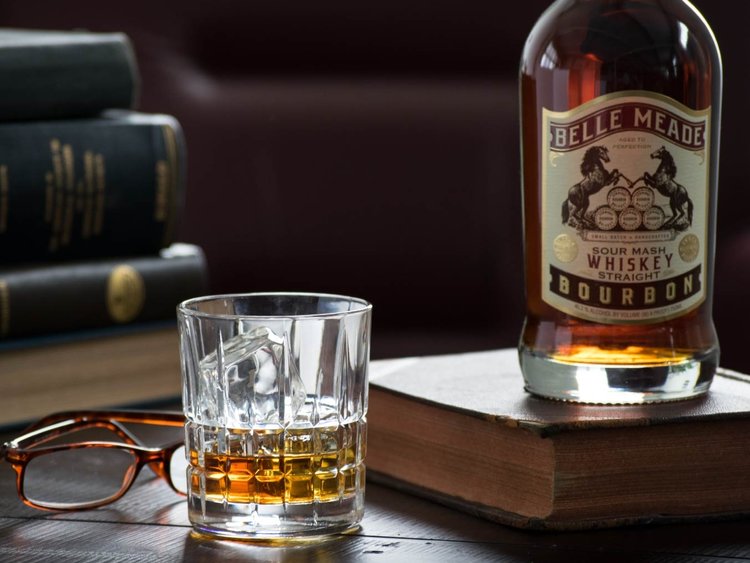 In keeping with the history of the brand and to assure that only the finest quality Bourbon is labeled Belle Meade Bourbon, we painstakingly select barrels sourced from the nation's finest distillers. To ensure that no other Bourbon in the world tastes like Belle Meade Bourbon, we created a proprietary blend using different high-rye content mash bills and complementary yeast strains. Each batch of our well-aged proprietary blend creates the signature flavor profile that makes Belle Meade Bourbon the award-winning Bourbon of choice for the discerning whiskey drinker.
The high-rye blend of Belle Meade was designed to make it a versatile Bourbon.  It shines whether served neat, with a splash, or on the rocks but it's also outstanding in a well-made cocktail. The high rye content and 90.4 bottling proof helps Belle Meade Bourbon to stand up to mixers that often mask other Bourbons, thus making it the perfect Bourbon for your favorite classic or craft cocktail creation.
Whoever said everything old is new again was dead on. So don't drink like your Dad. Drink like your Great Great GREAT Granddad. Drink Belle Meade Bourbon.
---
BUY ONLINE FOR DELIVERY
Buy From DRIZLY
---
AWARDS
Winner: Double Gold Medal at the 2015 San Francisco World Spirits Competition.
"The Double Gold designation is awarded to the very few entries that receive Gold medal ratings by all members of the judging panel. These are among the finest products in the world."
- San Francisco World Spirits Competition
Winner: - Outstanding Gold, 2015 Spirits of the Americas Competition
Winner: - Made In The South Awards 2013, Garden & Gun Magazine
Winner: - Top 3, Best Bourbons In America, Maxim Magazine
93 Points - Tasting Panel Magazine
91 Points - Wine Enthusiast Magazine
---
PONT OF DIFFERENCE
High-rye Content (30% rye).

90.4 proof is the ideal sweet spot for depth of character.

Small Batches.

A proprietary blend of differing mash bills and yeast strains.

Never chill-filtered to retain maximum flavor.
TASTING NOTES
Nose: Maple syrup and caramel with floral fragrances and a citrus zest.

Palate: Caramel and vanilla with bold rye spice and hints of apricot.

Finish: Long, smooth finish with mellow cherry and plum notes accented by cinnamon, all without the burn found in other 90 proof bourbons.
Choosing a selection results in a full page refresh.
We support the fight against underage drinking and drunk driving. To learn more visit www.Responsibility.org. Please enjoy responsibly. © 2022 Nelson's Green Brier Distillery. Our Privacy Notice and Terms & Conditions have changed. By using this website, you agree to the Privacy Notice and Terms and Conditions of use.