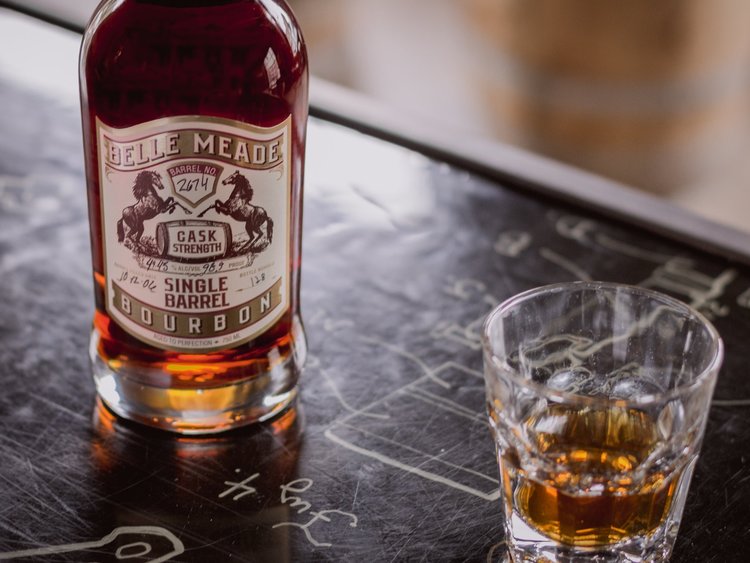 Belle Meade Single Barrel Bourbon is a rarity which is sometimes available at our distillery gift shop or select retailers nationally. The barrels are selected through a tasting process in which a team of our staff members scrutinizes samples of well-aged barrels. To pass muster the barrel must show the characteristics that are the hallmarks of a superior Bourbon; balance, depth, and complexity.
The few barrels that make the grade are then set aside to be bottled at true cask strength. We do not cut our Single Barrel Bourbon to proof and it's never chill-filtered.  It is bottled just as it was sampled in the approval process and that means the proof of every bottling is different. That's why every single bottle has the barrel number, proof, and the barrel's original fill date written on the front label.
This high proof and ample maturation means that Belle Meade Single Barrel Bourbon always has a bold flavor that is best appreciated neat, with a splash of water, on the rocks, or in a well-made cocktail. However you choose to enjoy Belle Meade Single Barrel Bourbon, rest assured that you are drinking as true a representation of pure Bourbon as one can possibly get without drinking straight from the barrel. 
AWARDS
Winner: Double Gold Medal, 2018 San Francisco World Spirits Competition.
"The Double Gold designation is awarded to the very few entries that receive Gold medal ratings by all members of the judging panel. These are among the finest products in the world."
- San Francisco World Spirits Competition
---
PONT OF DIFFERENCE
High-rye content

Never cut to proof and bottled at true Cask Strength

Comes from one exceptionally flavorful barrel

Never chill-filtered to retain maximum flavor
TASTING NOTES
Every barrel of whiskey is different, an adventure all its own. That's the beauty of a single barrel whiskey.
Choosing a selection results in a full page refresh.
We support the fight against underage drinking and drunk driving. To learn more visit www.Responsibility.org. Please enjoy responsibly. © 2022 Nelson's Green Brier Distillery. Our Privacy Notice and Terms & Conditions have changed. By using this website, you agree to the Privacy Notice and Terms and Conditions of use.