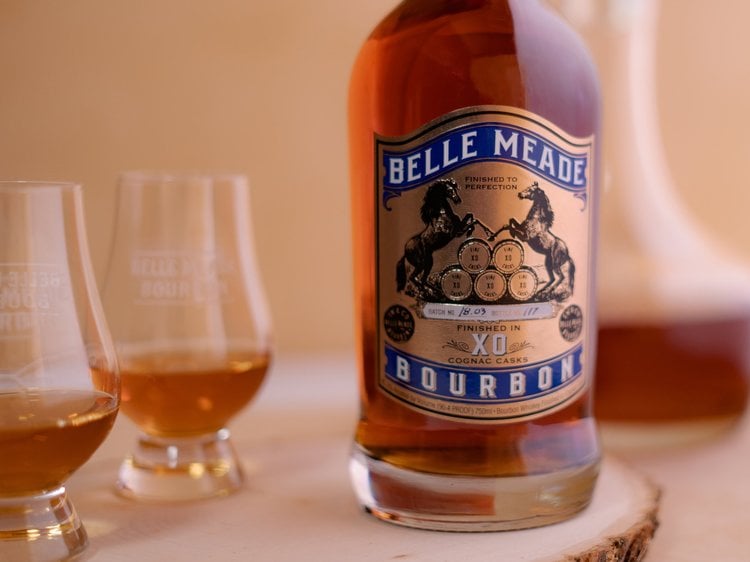 Belle Meade Bourbon Finished in XO Cognac Cask™ is the result of painstaking attention to detail to create a product of unmistakable quality and character. 
We start by seeking the perfect casks for the project because like any other ingredient, the finishing cask must be exceptional in order to achieve exceptional results. We use casks made of French Limousin Oak that have been used for 12 years to age one of the world's premiere Fine Champagne XO Cognacs. One smell of these casks tells you that they hold truly magnificent potential as finishing barrels.
We then fill the casks with a blend of well-aged Bourbons to coax the best results from the casks. The blend we select brings out the spice and fruit characteristics of the cask while bringing rich depth and complexity which plays perfectly with the soft, luxurious flavors of the well-aged Cognac flavors embedded in the French oak.
Belle Meade Bourbon Finished in XO Cognac Cask is the perfect way to wind down the day when sipped neat, with a splash of water, or on the rocks.
Bourbon finished in Cognac casks. 45.2 % alcohol/volume
AWARDS
Winner: Gold Medal 2017 San Francisco World Spirits Competition.
Winner: Gold Medal 2018 San Francisco World Spirits Competition.
"Products awarded a Gold medal are exceptional. They are near the pinnacle of achievement in their particular category. They are products that set the standard for all others of their type."
- San Francisco World Spirits Competition
---
PONT OF DIFFERENCE
A proprietary blend of well-aged Bourbon.

The blend is then rested to finish in XO Cognac Casks that were used for 12 years to produce Cognac.

High Rye Content (30%)

Non-chill filtered

90.4 Proof
TASTING NOTES
Nose: Crème brûlée, red apple and a touch of cinnamon.

Palate: Vanilla, caramel, dried orange, baking spices and a soft alluring medium bodied mouth feel.

Finish: Long finish mimicking the palate with notes of toasted cedar and hints of allspice.
Choosing a selection results in a full page refresh.
We support the fight against underage drinking and drunk driving. To learn more visit www.Responsibility.org. Please enjoy responsibly. © 2022 Nelson's Green Brier Distillery. Our Privacy Notice and Terms & Conditions have changed. By using this website, you agree to the Privacy Notice and Terms and Conditions of use.